Affiliate Disclaimer:
RewardsWebsites.com is reader-supported and contains affiliate links. If you click on any links or buttons and sign up with their associated website, I will receive a small commission. All GPT sites found on RewardsWebsites.com are free to join.
Have you ever wondered if it was possible to get paid to watch videos online In 2022? Well, I sure have, and I'm happy to break the news to you. It is very much so possible, and it's as easy as it sounds, keep the videos playing in the background, and these two websites will pay you for doing so!
As long as you have a computer or a smartphone, and I'm almost positive you do (or else you wouldn't be reading this right now), then you're all set to start getting paid to watch videos online!
Read more about why I highly recommend using these sites to earn money online and how easy it is to get started!
#1 – Watching Videos On InstaGC
The first website I would like to mention is InstaGC. I have been using this feature on their website for many years now, and it's a great way to supplement the amount you can make. Watching videos on InstaGC is most likely one of the easiest to understand, compared to the other website that I'll talk about here shortly.
Getting paid to watch videos on your computer/smartphone can't get any easier than this. I even like the fact that they make it easy for mobile users to watch videos too. I'll try my best to cover everything you need to know about making money by watching videos on InstaGC.
What is InstaGC?
InstaGC is a GPT or (Get-Paid-To) site that pays you to complete different online tasks like taking surveys, watching videos, trying apps and games, etc. I'm only going to focus on watching videos for this post to keep things organized and simple, although you could do anything they have available on the site.

How Does InstaGC Work?
InstaGC has an array of ways to earn points similar to other GPT sites. You get paid for completing these tasks, and you can redeem them for rewards when you get enough points. It's pretty much the same as other GPT sites, so you might already be familiar with how they work.
Is InstaGC Free?
Yes, InstaGC is free to use. They pay you to complete tasks on the site and do not charge you for anything. You do have the option to make more money by paying for trial offers, but these are optional.
Since we're focusing on getting paid for watching videos, I'm trying to keep everything free here so you can earn the most for your time.
Who Can Join InstaGC?
After searching for who can join InstaGC, this is the answer I found for this question:
Registration (where permitted) is open to residents 18+ years old or 13+ years old with parental consent. Permitted countries include all countries and regions that are supported by PayPal, excluding China and Vietnam. The full PayPal-supported list can be found here.

How To Earn Points Watching Videos
To earn points on InstaGC, it's super simple. Head over to the "earn" tab and then "watch videos." Here you'll have the option to watch videos on desktop or mobile. I love that they support mobile users because that's the direction we're going in these days.
Staying on topic, all you need to do now is click "show below," and the video playlist will begin playing. It's that easy to do, and I hope this earning method will work well for you. This way, you can make a little bit more money for your time spent on InstaGC.
How Else Can I Make Money On InstaGC Besides Watching Videos?
There are many other ways to make money on InstaGC besides watching videos. The most popular way to make money is through taking surveys. Next up are offers and offer walls. I wrote an InstaGC review that you can read by clicking here if you prefer to know more about this kind of stuff.
The other way I would say would be trying to refer other people to InstaGC. Not only are you doing other people a favor by showing them this GPT site, but you will earn a percentage on everything they make for life.
Is InstaGC Legit In 2022?
Yes, InstaGC is legit in 2022. I've continued to use this method for many years now, and the main reason I wanted to show you how this works is so you can start earning like this, too! I've done many other tasks on the site besides watching videos, but this is one of the ways I've been using to make money on the site for a long time now.
If you look at the stats from InstaGC, they've been paying since 2011. That's a long time for a GPT site, so there's no need to question the legitimacy anytime soon. I remember when InstaGC first hit the scenes and were brand new. It was exciting knowing that you could get your gift cards sent instantly to your inbox.
The design was another factor because you didn't see many custom GPT scripts like this one back around that time, making it one of the first GPT sites to have a custom script way different than everyone else. What's not to like about InstaGC? They are still a great way to make money on the side, and I continue to make money on their site to this day.
Payment Proof
#2 – Watching Videos On Hideout.tv
Hideout.tv is a video-sharing platform with the availability to monetize your content just in case you're a content creator. If you're reading this to find out how to get paid to watch videos as a viewer, then you're going to love this one! Not only is it super easy to get started doing, but you may find yourself interested in some of the content featured on Hideout.tv. Read more about how this website works and how you can start making money using it.
Who Can Join Hideout.tv?
As far as their sign up page and terms and conditions state, you can join Hideout.TV if you are 18+ years old or 13+ years old with parental consent.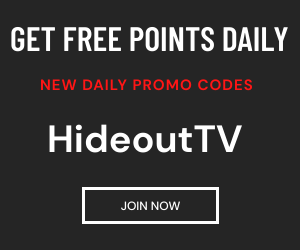 How To Get Started
The first thing you're going to have to do before you can start making money watching videos is to create a new free account. You're then going to confirm your email. After that, you're all set, find a category of videos you'd like to begin watching and make sure to leave it running in the background. It's super easy to set up, and as I mentioned earlier, you may find yourself interested in some of the content featured on Hideout.TV.
How Else Can I Earn On Hideout.TV Besides Watching Videos?

Hideout.tv Promo Codes
You can earn a few extra points with promo codes. You will be able to automatically redeem a promo code already filled in below the video every single day, so be sure to do that each day for maximum points per day. They also offer promo codes at random on their social media profiles.
Referrals
Referring other users to Hideout.TV is a great way to show others about this great site, while also earning a bonus perctentage of what they earn.
How Do I Get Paid From Hideout.tv?
To get paid from Hideou.tv, you just need to click the the 3 lines in the top left hand corner, click on rewards, and finally, start redeem process. Please note that you must have a GPT or Rewards Website linked to Hideout.TV in order to cash out.

Is Hideout.tv Legit In 2022?
Hideout.tv is definitely legit as I've been paid multiple times. It's an excellent way to make a few extra dollars for really doing nothing other than watching videos, which you probably already do in your free time. If you're interested in joining Hideout.tv, you can do so by clicking the button below. I wish you luck with your journey to earning money online!